Welcome to Swim and Spas, your dedicated hot tub maintenance service in the heart of Winnipeg. When it comes to hot tubs, understanding how to properly maintain a hot tub ensures longevity and the purest enjoyment. While we won't delve into the intricate details here, let's highlight the array of services we offer, incorporating all the essential maintenance tasks that keep your spa sanctuary perfect.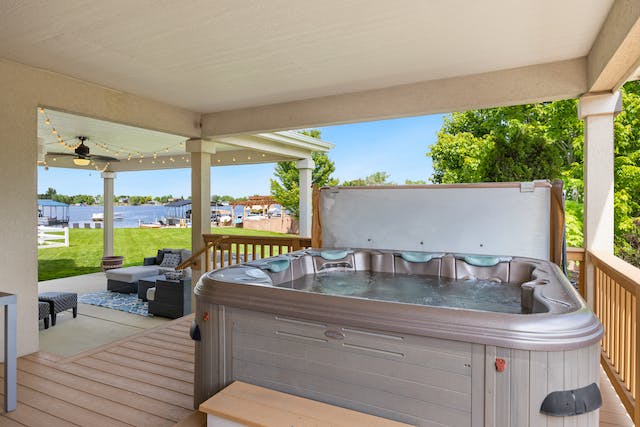 Hot Tub Cleaning and Care
Our suite of hot tub cleaning services includes a thorough drain and refill process, a staple of any robust spa maintenance schedule. Your spa's clarity is our priority, and our professionals utilize high-grade spa ozonator maintenance techniques to keep your water crystal clear.
Filter and Pump Vigilance
Robust filter maintenance is critical, and we employ specialized spa filter cleaners to maintain the heart of your hot tub's filtration system. Alongside, our pump maintenance ensures that the soothing circulation in your spa never misses a beat.
Heater Efficiency and Cover Durability
We provide diligent heater maintenance, making sure your hot tub's warmth is always welcoming. Cover care is not overlooked; using a spa cover lifter and spa cover cleaner extends the life and beauty of your hot tub cover.
Chemistry for Comfort
Our team excels in water chemistry, adeptly handling water testing and water treatment to keep your spa's environment perfectly balanced. From ensuring the ideal pH balance to utilizing spa chemicals for sanitizing, we make the complex simple.
Routine and Responsive Services
Regular spa shock treatment is part of our routine service to keep your water pristine. However, when unexpected issues arise, our troubleshooting expertise is at your service to swiftly navigate and rectify any challenges.
Seasonal Solutions
Our winterizing services ensure that when the snow falls, your hot tub is ready to embrace the season, or take a well-deserved hibernation without issue.
Trust Swim and Spas to be the guardians of your relaxation ritual. We ensure that every aspect of your hot tub's maintenance is managed with professional care and expertise, allowing you to enjoy the tranquil moments of spa ownership without the hassle. Let's connect and keep your hot tub the rejuvenating escape it's meant to be.
Mon 9:00 am – 06:00 pm
Tue 9:00 am – 06:00 pm
Wed 9:00 am – 06:00 pm
Thu 9:00 am – 06:00 pm
Fri 9:00 am – 06:00 pm
Sat 9:00 am – 05:00 pm
Sun Closed
Need help? Fill out the form below and we'll get back to you. Swim and Spas is your one-stop-shop for all your pool and hot tub needs. Contact us today!